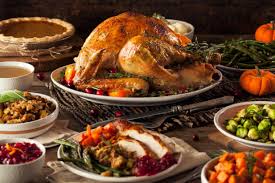 A terrific turkey dinner with all the fixings!
With this COVID-19 mess you might have been in lock down with the same people for weeks
...you deserve a break this Easter!
We are offering 2 choices
Serves 6-8 people ONLY $160.00 OR 2-4 people ONLY $90
This Easter, let Molly`s Bistro Bakery cook for you....from scratch!
~Substitute your dessert for a Lemon Meringue Pie for an extra $10~
Order by April 4th ~~ Pick up April 10, 11 or 12
To order call 705-286-6988 or Email: MollysBistroBakery@gmail.com
Fully cooked Turkey
Gravy
Stuffing
Cranberries
Chive Smashed Potatoes
Squash-Apple Bake
Veggie Medley
Choice of Dessert from Molly`s freezer OR a Lemon Meringue pie for $10 more