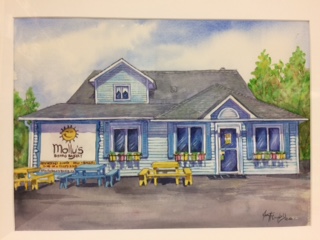 Welcome to Molly's Bistro Bakery in Minden ON
OFF SEASON HOURS:
OPEN
Wednesday-Sunday
7am-3pm
CLOSED: Monday & Tuesday
Our delicious foods are created in house using the finest local ingredients.
We love to cook & bake from scratch so you don't have to.
170 Bobcaygeon Road Minden Ontario K0M 2K0
Turn off Hwy 35 into the beautiful Village of Minden, on the Gull River.
Molly's Bistro Bakery is over the bridge and just before the Cultural Centre.
mollysbistrobakery@gmail.com
Molly's Bistro, where home-made magic happens. Molly's Bistro Bakery, is where many locals and cottagers go for quality dining experiences.
Consistently rated one of the top restaurants in Minden on Tripadvisor.ca and Yelp.ca
We have excellent food, reasonable prices, an interesting menu and wonderful atmosphere. Everything is made from scratch here, that sets us apart. Open from 7 to 3, seven days a week, we create breakfasts, lunches and a delicious array of baked goods. And although the "Boring Breakfast" of bacon, eggs, home fries, homemade jam & toast is a favourite, our menu is anything but dull. In fact, it's incredibly international.
If you've had a busy day and don't feel like cooking you can select from our freezer full freshly frozen favourites like chicken, steak or shepherd's pies, tourtiere, lasagnas or quiches ready for your oven – everything from bumbleberry to moussaka. There are also gluten-free and vegetarian options.