ALL DAY BREAKFASTS

*BISTRO BREAKFAST-13
Traditional Quebec full breakfast 2 eggs, bacon (both peameal and side), homemade baked beans, Creton, crepe, homefries
*BIG BOY BREAKFAST-13
2 eggs, bacon (both peameal and side), sausage (Coneybeare's), homemade baked beans, homefries
*BISTRO BREAKFAST POUTINE- 13
2 eggs, peameal & side bacon, homefries, Swiss cheese & Hollandaise sauce (Vegetarian-switch Bacon for Roasted Veggies)
*STEAK & EGGS-14
2 Eggs, 5 oz flat iron steak, Bistro steak sauce, homefries, seared tomatoes
*VEGAN PARADISE-13
Roasted veggies, baked beans, avocado, homefries & tomato slices
*3-EGG OMELETTES-10-With homefries
Cheddar Cheese Cheddar cheese & secret cheese sauce Spinach & Feta Spinach, caramelized onions, ranch dressing & feta
Western & Cheddar Molly's Western mix & cheddar cheese
*FRITTATA-9
2 eggs, roasted vegetables & cheddar cheese
*BORING BREAKFAST-7 2 eggs, side bacon, Homefries,
(Vegetarians-switch Bacon for Baked Beans)
*OLD FART BREAKFAST-5.50 1 Egg, side bacon, (Vegetarians-switch bacon for baked beans)
*STEEL CUT IRISH OATMEAL-5.50 Oatmeal with brown sugar or maple syrup

*Served with our homemade jam and toast


ULTIMATE BURRITO-13
2- Eggs, Western, Bacon, Cheddar & Baked Beans wrapped in our homemade tortillas & Homefries
HUEVOS RANCHEROS-13
2 Eggs (any style), chorizo sausage, homemade salsa, avocado, beans, chipotle mayo & mozzarella cheese, all loaded in a homemade tortilla
A GAL'S GOTTA EAT-13
2 Eggs, Bacon (both peameal and side), Sausage (Coneybeare's), homemade waffle, crepe & French toast
TUSCAN BREAKFAST CREPES-13
2 scrambled eggs & secret cheese sauce, side bacon, spinach & caramelized onions, herb-garlic aioli, hollandaise sauce & a touch of maple syrup
BELGIAN WAFFLES or CREPE-10
Homemade apple or bumbleberry compote, homemade crepe or Belgian waffle, maple custard, whipped cream & streusel
BREAKFAST BURRITO (2-Eggs)-10
Wrapped in our homemade tortilla with homefries
Western Burrito Molly's Western mix & cheddar Pulled Pork Burrito Molly's famous pulled pork & cheddar
THE WEEKENDERS -13
2 Poached Eggs- with Homefries Choose from...
Eggs Benedict
Our tea biscuit, Peameal Bacon, Cheddar & Hollandaise Eggs Florentine
Our tea biscuit, Spinach, Swiss & Hollandaise Eggs Natasha
Our tea biscuit, Smoked Salmon, parsley-caper pesto & Hollandaise Eggs Santé Fe
Our cornbread, Chorizo sausage, Avocado,
Cheddar & homemade salsa
QUICHE-11
Bacon & Sweet Potato or Bacon & Mushroom
Chicken & Asparagus or Smoked Salmon
Spinach & Feta or Sausage & Mushroom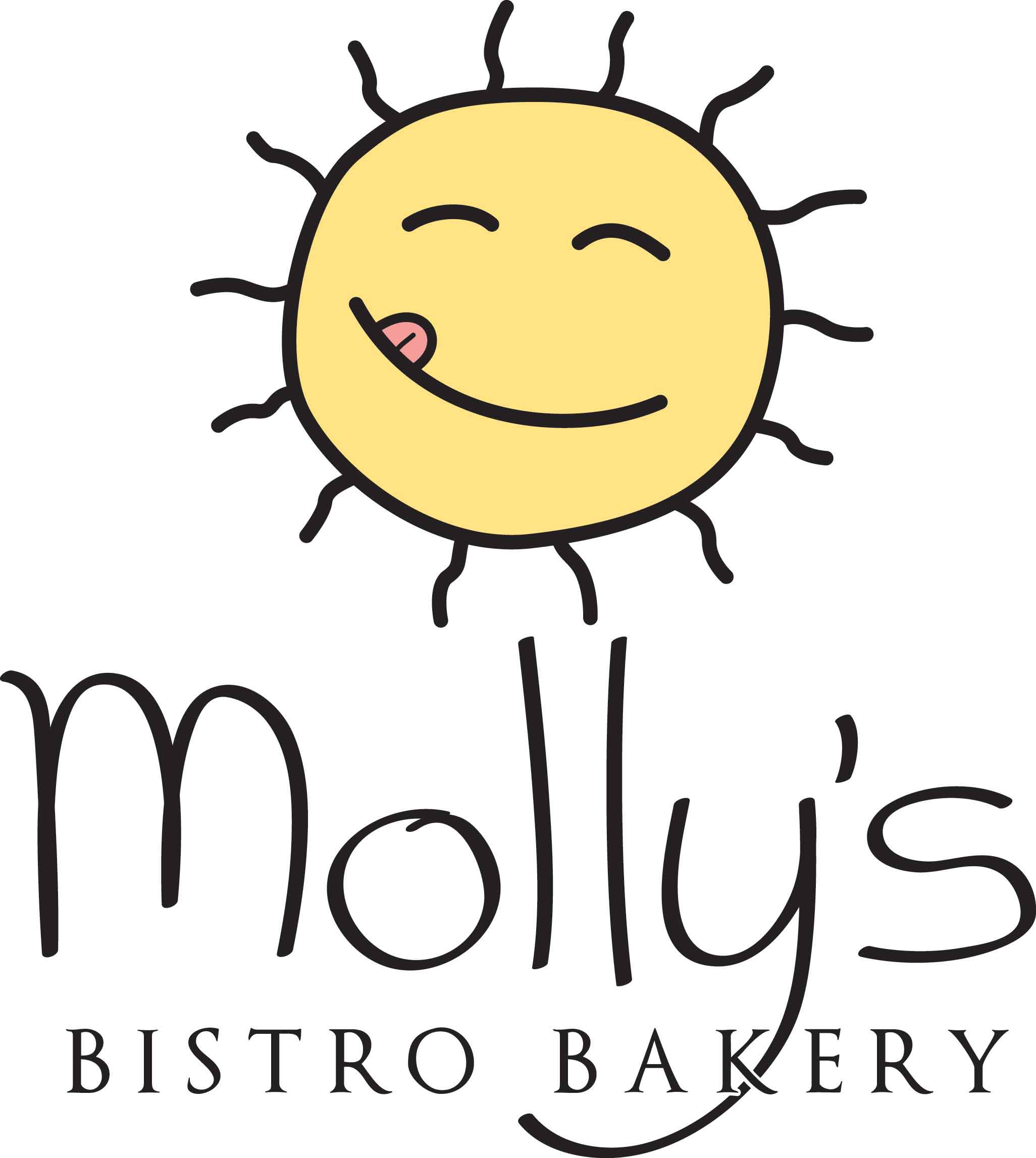 ALL DAY LUNCHEONS -$14


With Side, Soup or Salad


MEAT PIES:
Steak–Chicken – Toutiere–Liver & Bacon
HOT BEEF OR PORK SANDWICH
Roasted in-house, homemade gravy,
Served on homemade bread
LASAGNA or MOUSSAKA
Homemade sauces & pasta! Ground Beef or Vegetarian
CHILI & biscuit or cornbread
Meaty & thick and just the right spice.
BAJAN MACARONI PIE
Caribbean Style with a touch of hot
PULLED PORK POUTINE
Molly's Pulled Pork piled on oven roasted
Homefries with layers of mozzarella cheese
QUICHE:
Bacon & Sweet Potato or Bacon & Mushroom
Chicken & Asparagus or Smoked Salmon
Spinach & Feta
MADRAS VEGAN CURRY
A savoury yam, squash, spinach, chickpeas & coconut dish served in a tortilla
BISTRO SUPER SALADS -15
GREEK, CEASAR OR BOMBAY
with Chicken, Steak, Shrimp or Avocado
COLD SANDWICHES - $7
Curried Turkey Salad
Chicken & Walnut Salad
Tuna Salad
Egg Salad
Veggie
Roast Beef, Roast Pork or Corned Beef
(Roasted in-house)
Add cheese-$2


HOT SANDWICHES - $7


Grilled Cheese: Cheddar, Swiss, Gouda or Havarti
Monte Cristo
Western & Cheddar
Breakfast Biscuit Sandwich
Pulled Pork on a Bun

SANDWICH COMBO


With Side, Soup or Salad
Whole Sandwich Combo-$12
1/2 Sandwich Combo -$9


3-SOME COMBO-$13


1/2 Sandwich, bowl of soup & salad
BURGER COMBOS-14
The Big Jerk Burger
Wild West Burger
My Big Fat Greek Burger
The Bistro Burger
Oh Canada!
HOMEMADE SOUP Sm. $6.50 Lg. $7.50
SIDES-$6
SALADS - $7
Make it a Caesar or Greek add $2.50
DINNER SOLUTIONS!
We make everything in house from scratch
We have a freezer full of flavours!
Choose from…
MEAT PIES: Steak, Chicken, Tourtiere or Liver, Bacon & Onion
Lasagna: Beef or Vegetarian
Moussaka: Beef of Vegetarian (Gluten Wise)
Shepherd's Pie (Gluten Wise)
Bajan Macaroni Pie
QUICHES: Bacon & Sweet Potato, Bacon & Mushroom, Chicken & Asparagus, Smoked Salmon or Spinach & Feta
SWEET TOOTH SOLUTIONS!
FRUIT PIES: many to choose from
Cheesecakes
Shaker's Lemon Pie
French Coconut Custard Pie
Apple Crisp
Bread Pudding
SWEETS & TREATS:
Cookies, squares, brownies, fudge, tarts
MUFFIN BREAD
WE NOW HAVE CAKES!!!!